We published the performance note on the 2nd anniversary of Aurum Capital.
Some of you suggested to include the assumed returns from the cash we were holding the portfolio and also include the performance during the first year. We have included both the performances.
The performance indicates our focus on value investing while protecting the capital along with patience and conviction. During this period, we did not panic and tried to help our subscribers wading through this tough time.
We stayed the course and our subscribers are now reaping the benefits of the resilience of the portfolio which has significantly outperformed all the relative benchmark indices across all periods.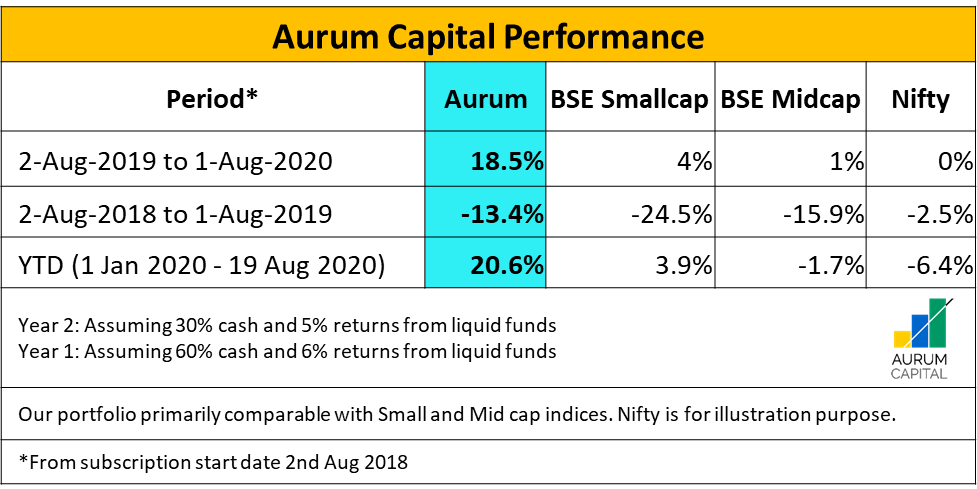 A note about our performance measurement practices and recommendations:
Our model portfolio remains the same as displayed on the screen for all starting from the beginning.
We include all exits to arrive at our performance. We do not remove/hide any stocks exited by us even if we have booked any losses.
We take the weighted average price of the recommendation. We do not and will never take the lower price of the band while calculating buy. Similarly, we do not and will not take the upper price of the band while calculating gains for the exit. This, we believe, avoids any bias for artificial gains. It rather reflects performance close to reality. We never try to manage our performance. It is as is in black and white and mostly tilted to benefit the subscribers.
Our performance note of 2nd Aug 2020 with the current market view
Aurum Capital yearly performance note and current view: Aug 2020
Regards,
Investment Advisers Department
Aurum Capital
SEBI Registration No: INA000011024